→ zur deutschen Version dieses Buchs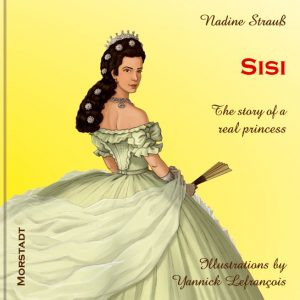 Nadine Strauß
Sisi – The story of a real princess
84 pages, sewn binding, hardcover, glossy laminate finish.
With 16 picture-puzzle illustrations (some double page) by Yannick Lefrançois, recipes for an Emperor's breakfast, a word puzzle, and a board game (insert).
€ 16,90 [D]/€ 17,40 [A]. ISBN 8 978-388571-385-2
Why make up princesses, when there are real ones?
That's what Nadine Strauß thought, and in this book she tells the story of Bavaria's Princess Sisi – whose real name was Elisabeth von Wittelsbach – and her extraordinary life as Empress of Austria; she continues to fascinate people even today.
Princess Sisi was a happy child who became the wife of the Austrian Emperor Franz Joseph when she was just sixteen years old. The couple were very much in love, and the people admired their young, charming Empress. Sisi was soon being called the most beautiful woman of her time.
Many girls wanted to be just like her. But Sisi wasn't happy. The large court with its strict rules made her feel anxious and hemmed her in. She felt like a bird in a gilded cage. Then one day Sisi discovered that she loved travelling. It was the start of a restless life in search of freedom…
Nadine Strauß takes her readers of all ages to meet a historical character, and provides a variety of entertainment on the way. Anyone who reads the book carefully will have no difficulty solving the word puzzle at the end of the book.
The wonderful detailed illustrations, each containing a small object to look out for, add to the pleasure. Experience an Emperor's breakfast with recipes for Gugelhupf and Kaiserschmarrn. And the board game insert invites readers to visit Sisi's castles.
For curious readers of all ages.