→ zur deutschen Version dieses Buchs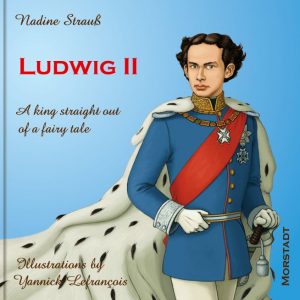 Nadine Strauß
Ludwig II – A king straight out of a fairy tale
88 pages, sewn binding, hardcover, glossy laminate finish. With 17 picture-puzzle illustrations (some double page) by Yannick Lefrançois, a family tree to fill in, a word puzzle, and a board game (insert).
€ 16,90 [D]/€ 17,40 [A]. ISBN 978-3-88571-386-9
If you think about kings, you perhaps think of fairy tales – if you think about King Ludwig II of Bavaria, you almost certainly do. The King's fairy-tale lifestyle can still be experienced today by visiting his world-famous castles.
Ludwig was just 18 years old when his father died unexpectedly and he had to mount the Bavarian throne. The people cheered the handsome young King, and were enthusiastic when he showed himself. But Ludwig was shy, and avoided contact with people, much preferring to be on his own.
Even as a child he had dreamed of creating his own undisturbed world, with proud mountains and magnificent castles; the only person in it would be him, a noble hero and knight – just like in a fairy tale. And now he was King – he had the power, and he had the money. So Ludwig started building …
Nadine Strauß takes her readers of all ages to meet a historical character, and provides a variety of entertainment on the way. Anyone who reads the book carefully will have no diffi culty solving the word puzzle at the end of the book.
The wonderful detailed illustrations, each containing a small object to look out for, add to the pleasure. Ludwig's family tree provides readers with an example of how to fi ll in the names and dates of their own relatives on a blank family tree, and the board game insert invites players to take a pleasant stroll through the park at Linderhof Castle.
For curious readers of all ages